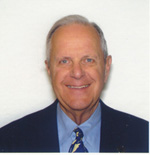 Leading in Complex Environments
Combined 36 years of safety, management and leadership experience in a large organization with 25 years of study of theories of Systematics, Chaos, Complexity, Complex Adaptive Systems and Complex Responsive Processes leading to the development of Self-Organizing Leadership© and the Process Enneagram© action symbol, a holistic approach to organizational transformation.
Education
University of Rochester, Rochester, NY Ph.D. in Organic Chemistry 1961
Oberlin College, Oberlin, OH. BA Chemistry 1957
Professional Experience
September 1996 – Present
Self-Organizing Leadership and Process Enneagram© consulting in USA, Canada, New Zealand, Australia and the UK.
October 2003 – Present
Co-Founder and Director of The Center for Self-Organizing Leadership, Inc™
January 2005 – Present
Board Member of DuVersity, The Study of John Bennett's Systematics
May 2004 – Present
Board Member of The Institute for Sustainable Enterprise, Fairleigh Dickinson University
2006 – 2010
Subcontractor – AmTrust North America Insurance Company Small Business Workers Compensation/Safety Compliance Auditor
April 2004 – 2010
Managing Director The SOLiance Group USA
February 1995- September 1996
DuPont Company: Director, Emergency Response and Community Outreach
1990 – 1995
WV State Emergency Response Commission Member
April 1987- February 1995
DuPont Company: Plant Manager, Belle, WV
Sept. 1987 – Sept. 1997
American Chemical Council: Community Awareness and Emergency Response Task Group
August 1983 – April 1987
DuPont Company: Plant Manager, Niagara Falls, NY
January 1980 – August 1983
DuPont Company: Assistant Plant Manager, Deep Water, NJ
Awards and Recognition
EPA Region III Chemical Emergency Planning and Preparedness Partnership Award in 1995 for the leading role played in Safety Street, Managing Our Risks Together, a 1992-1994 ground breaking risk communications effort [prelude to the Clean Air Act] in the greater Charleston, WV Area.
Listed in Who's Who in the World, in America and in Science and Engineering.
Strathmore's Who'sWho, 2009 Professional of the Year-Organizational Change and Leadership Consulting.